Hypotropia (Vertical Strabismus)
What is Hypotropia?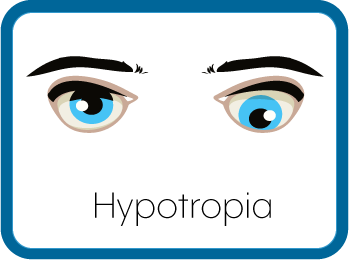 In general, strabismus (or tropia) is defined by frequency (intermittent or constant), laterality (right, left, or alternating), and direction (horizontal or vertical).
Horizontal strabismus is termed esotropia (inward turn of the eye) or exotropia (outward turn of the eye). Vertical strabismus is termed hypotropia (downward turn of the eye) or hypertropia (upward turn of the eye).
Therefore, Hypertropia is a form of vertical strabismus where one eye is deviated downwards in comparison to the other eye.